In 2017, I was invited to participate in an exhibition of visual art and ekphrastic writing at the University of New Hampshire's Museum of Art. Two flash pieces came out of that experience, and though the exhibition is long gone, I wanted to share the work and the art that sparked it.
#1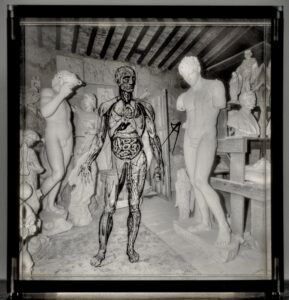 "I am incomplete," said the man.

           "I know," I replied. I had made him, and he was right; there was no sense in arguing. He was no mere pile of butchers' entrails, either. I'd rendered him painstakingly, twined his sinews in tight bundles, had his organs shipped on pure ice by the swiftest of couriers.
            "How, then, do I complete myself?" he asked.
             I could have told him to go to the base of a cliff on Coburg Island and gaze up at the thick-billed murres and black-legged kittiwakes by the thousands, raising their choral squawk. Or to walk the perimeter of the Duomo after gazing on Medusa's dripping head in Cellini's sculpture. I could have urged him to bear a sickly child to the ER while she gasped, leaning in toward where he assumed her windpipe to be with moist breath, parched lips.
             But I had done all of those things, and I was not complete. So I said, "There's nothing, nothing now. Except, that is, to have a hearty breakfast."
              And so we made eggs, side by side, staring into the unbroken yolks like two versions of the same man, one of whom still had a fighting chance.
#2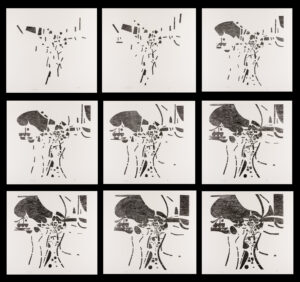 My father, shattered mosaic, occasionally came into focus four drinks in. He was an optician, trade of exactitude and infinite patience. "How about this? This?" he'd say, again and again. I imagine few, if any, turned the question around. Thus they thought him quiet. Never heard him sound off–about jumping out of planes, about cow-tipping (him! Paragon of dignity!). Before the war, he and a buddy had helped transport an octopus between two aquariums. He'd sneaked down to Boston to see the Beatles on their first US tour, after they'd cancelled a gig in Montgomery that would've been segregated. For the thirty-five minutes they'd played, the screaming had been so all-consuming that he'd only heard a single Beatle all night, John yelling, "Shut up!", which of course made everyone scream louder. I wish I'd needed glasses; I would've plied him with questions while my pupils pulsated like total solar eclipses, the kind that blind. I would've torqued the chair to face him head-on. Now that chair has been auctioned off and sits in some chain store, and what I have is my own fingers tugging at my eyelids, as though they could make anything appear that wasn't already there.